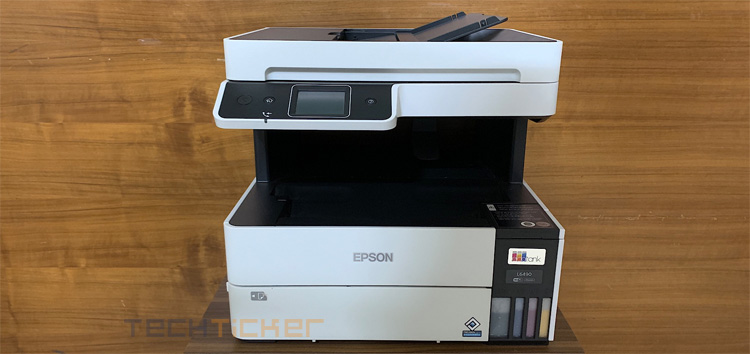 More often than not, printer manufacturers sell their printers at a marginal to no profit with an aim to recover the cost from consumables (read inks). You'd still find printers in that category but it doesn't work well if you are a business where you are looking to get a decent return on the investment you've made. Thankfully, the advent of Ink Tank printers has reduced the cost of consumables and for businesses, Epson's EcoTank L6490 printer offers the same advantage with more business-centric features.
The EcoTank L6490 printer's targeted market is evident front the design. It is a replica of sorts of clunky photocopier machines but has a compact design. In fact, we were genuinely surprised by how little space the L6490 takes. It is 346mm tall, 347mm deep, 375mm wide, and weighs 7.3kg. The dual white-black finish suits the printer with a well-thought-out design. The hollowed center allows ample space for printed papers whereas the bottom area features a cassette to hold up to 250 sheets of paper. The translucent ink storage lets you check the ink levels quickly and when the time comes for a refill, one can easily refill them, thanks to its spill-free nature. There's a single sheet slot at the rear for photo papers whereas the top part of the printer houses the scanner. Oh, and if your company still uses fax, you'd be happy to know the L6490 supports that too!
The printer navigation is supported by a 2.4-inch touchscreen. Epson hasn't confirmed the resolution of the integrated screen but it is sharp and responsive enough to control the printer.
The printer supports three modes – Draft, Standard and High Quality that takes varied time to print along with different print output quality. While we found the first page to take a bit of time, the printer warms up quickly to churn out a number of copies instantly. During our print run in Standard mode, the first page took about 7 secs and printed about 15 pages in a minute, which is close to Epson's claimed 17 pages per minute. The printer also supports duplex printing.
The print quality is decent across all modes, especially in standard and high-quality mode with sharp text and detailed colors. It uses pigment-based DURABrite ET ink that ensures long-lasting and water-resistant prints.
The user-refillable CMY bottles have a yield of up to 6,000 pages while the black has a yield of 7,500 pages, effectively printing at 12 paise per page. New bottles cost Rs. 449 for the colored ones while the black costs just Rs. 309, making it affordable for businesses.
Furthermore, the Epson EcoTank L6490 is a network-connected printer, in addition to the USB interface. The printer supports Ethernet connection or you can connect wirelessly over Wi-Fi and Wi-Fi Direct. There's cloud printing support along with mobile printing. With the help of Epson iPrint app, users can print documents directly from their phone but one of my favorite features is the email print. You just send an email to the printer's email ID and it will automatically start printing the attachment. On a successful print, it sends an email back confirming the document details. Although we couldn't try to email print a password-protected document, it's safe to assume it won't be able to do it for security reasons.
The Epson EcoTank L6490 is officially priced at Rs. 35,999 but as of publishing this review, it is available for Rs. 31,100 and for that asking price, the L6490 delivers reliable and cost-efficient performance with features like duplex printing, internet connectivity and ink tank support.